Georgia Reverse Mortgage Lenders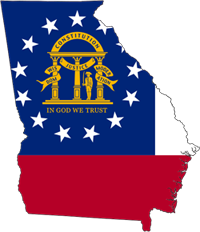 Georgia has been rising in the charts as far as reverse mortgage originations. In fact, Atlanta, Augusta, Columbus, Savannah and Athens all lead the state as cities with the most reverse mortgages. Even with the recent housing crisis, the boom that led up to the crash resulted in a lot of Georgia seniors becoming house rich. A reverse mortgage can help prevent foreclosure if they have built up enough equity. Although a reverse mortgage fee's may slightly be higher than outright selling the home, if a senior wishes to stay in their home and retain ownership and wants access to the money without having to qualify based on income or credit, a reverse mortgage can be a great option.
Reverse Mortgage Quick Facts
Seniors looking to qualify for a Georgia reverse mortgage will be glad to hear that credit scores and income are currently not used when applying for a reverse mortgage. The government has had talks with changing that as soon as late 2012.
Property in GA must be the primary residence
Youngest borrower must be 62 years or older
Senior must complete a HUD approved reverse mortgage/HECM course.
Reverse Mortgage Lenders in GA
Reverse Mortgage Lenders



Connect with a Reverse Mortgage Lender

We can help select a lender specific for you.

Don't stress about figuring out which lender to contact. We've helped thousands of folks connect to a lender. We can automatically select a licensed Georgia lender based on your situtation.




Reverse Mortgage Solutions

Georgia


reviews

Urban Financial Group

Georgia

urbanfinancialgroup.com

Owned by Knight Capital Group, Urban Financial is one of the largest reverse mortgage lenders in Georgia.


reviews

Security 1 Lending

Georgia

One of the most well known national reverse mortgage lender in Georgia. They provide top-notch quality service.
Capital Mortgage Services

John Parlante

Envoy Mortgage, Ltd.

Tony Votaw in Temecula, California

FirstBank Mortgage Partners

David Karcher

Genworth Financial Home Equity Access, Inc.

Hank Rhoads

Network Funding, LP

Trey Callegan

National Reverse Mortgage Lender

Great rates and low fees from a licensed reverse mortgage lender in your state.
Article Rating: